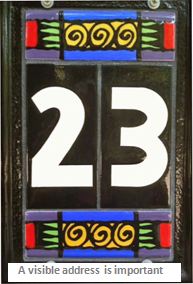 Your front entrance is the mouth of chi and sets the stage for the entire space. Make this area especially attractive for you and your guests.
* Add a doormat with an inviting word or image.
* Be sure the front door opens freely and is in good working order.
* Make your address easy to read from the street.
* Use lighting that illuminates walkways, stairs and steps.
* Use pleasing sounds as greeters like wind chimes and fountains.
* Make sure you have a doorbell in good working order.
* Space permitting; add a small table to set things down when entering.
* Once inside, greet yourself and guests with a fabulous piece of art.
* Regularly display fresh flowers.
* Do a nose check for unpleasant smells and adjust appropriately.
Does your e